GOLDSEA | ASIAMS.NET | ASIAN AMERICAN PERSONALITIES
THE 130 MOST INSPIRING ASIAN AMERICANS
OF ALL TIME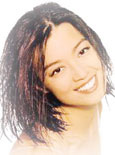 Ming-Na

PAGE 1 OF 3
Ming-Na distinguishes herself on the big and small screens by combining classically ethereal Chinese beauty with a sassy, girl-next-door style. Her regular role on one of TV's most enduring shows (ER) has proven to be the best evidence that Hollywood may not be totally blind to Asian predominance on the staffs of real hospitals. What follows is an article on Ming-Na from 1995 when she was flush from the success of her lead role in Joy Luck Club. It best captures the inimitable spirit that makes her an inspiration for Asian Americans.



omeone inside Larry Parker's Diner has just cranked up the bass, causing spoons to shimmy and plates to buzz under what have quickly become Mexican "jumping-bean" nachos. Video screens spash the '50s-style decor with provocative images through a dizzying spin of parfait-colored disco lights, while harried waiters balance temperaments with entrees.

Amid this seismic confusion, Ming-Na Wen sits completely poised, singing along with the music and occasionally mugging over a novella-sized menu.

Parker's, known for it's extensive list of creative dishes concocted by famous entertainment figures-turned- epicureans, is filling up. Tourists and Hollywood stargazers crowd the doorway, scanning the Beverly Hills hotspot in hopes of glimpsing a celebrity.

One group of disappointed tourists slumps in a nearby booth after a fruitless search through the establishment. Ironically, they're seated only a few yards away from one of the stars of the critically acclaimed film The Joy Luck Club.

In a glance, it would be easy to miss the connection between Wen and her character June, the conservative Chinese daughter she played in The Joy Luck Club. Gone are the shapeless, neutral-colored sweaters, the perfectly combed drape of hair and the reticent countenance she wore in the movie.

Dressed in an eclectic blend of Max Studio sophistication and Greenwich Village funk, Ming-Na Wen looks more like a poster girl for Melrose Avenue than a reserved "good Chinese daughter". Her black hair has been twisted into two braids which hang like perfect ropes underneath a crimson and black hat, and a potpourri of necklaces dangle above the neckline of a flowing tunic and tank shirt over satiny leggings.

For those who missed her on three seasons of "As the World Turns" as Lien Hughes, the first long-term contracted Asian character on daytime television, Wen's face may not be as familiar as those of her fellow Joy Luck Club compatriots, Rosalind Chao, Tamylin Tomita and Lauren Tom, nor is her traditional Chinese name easily remembered; but her performance has quickly placed her among the league of notable Asian actresses.

"It's so funny when people meet me," Wen muses. "In this buisness, people want to pigeonhole other people, so when people finally get to know me, it's like, 'God! She's the I-could - jump - into -a- jacuzzi- in- just- my- underwear type. That's so cool!"'

In a sentence, Wen describes herself as just "a really extroverted, fun-loving gal-chick." Yet one senses that there's something much more substantial here than what sounds like the makings of a Miss Congeniality candidate. Her brazen straight-forwardness and gregarious charm, topped with a palpabable confidence, have often come as a surprise to people, including some of her co-stars.

"It was really wierd because I got alot of comments from Rosalind and Tamlyn, who said that they were so impressed because when I walked into the rehearsal room, I walked in with so much confidence that they all looked at each other and asked, 'Who is she?!'

Her co-stars aren't the only ones compelled to ask that question. At this point in her career, Wen's anonymity may be a help to her popularity. people discussing Wayne Wang's first real Asian American mainstream breakthrough are eager to learn more about "the new girl" with the Chinese name. Despite her low-profile, the actress is by no means "new" to the entertainment buisness.

At an early age Wen decided that she wanted to become an actress. After playing "Thumpy the Rabbit" in her third-grade Easter play, she was hooked. "My role was to come out and run into things," Wen recalls. "When I got my first laugh I thought, 'Wow, how cool. What power, to affect people that way'. Ever since then, I wanted to act." Lifting a thick calligraphy stroke of an eyebrow, Wen will also tell you that her career choice was part of her destiny. PAGE 2
Back To Main Page
"The first two years I was treated like everybody else. But my junior year when we started doing main stage productions, I was always delegated very small parts."
---
CONTACT US | ADVERTISING INFO

© 1996-2013 Asian Media Group Inc
No part of the contents of this site may be reproduced without prior written permission.