GOLDSEA | ASIAMS.NET | ASIAN AMERICAN PERSONALITIES
THE 130 MOST INSPIRING ASIAN AMERICANS
OF ALL TIME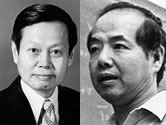 C. N. Yang/T. D. Lee

he startlingly youthful duo (34 and 30, respectively) shared the 1957 Physics Nobel Prize for proposing that the once sacrosanct law of parity conservation doesn't apply to weak nuclear reactions. Their revolutionary theory forced the scientific world to rethink the principles thought to unify the physical universe, earning a place for Asians at the most rarified levels of conceptual thought.

Chen Ning Yang's longtime focus on statistical mechanics and symmetry principles were key to the NObel-Prize work. He was a physics professor at the Princeton Institute for Advanced Study until 1966, then directed the Institute of Theoretical Physics at SUNY Stony Brook until 1999. Since 1993 he has divided his time between the U.S. and Hong Kong where he is director of mathematics at the Chinese University.

Yang was born September 22, 1922 in China's Anwhei Province. His father was a math professor. Yang is a hard worker of modest habits who has published a long list of scientific papers.

Noted for the originality, versatility and elegance of his mind, theoretical physicist T D Lee became the second youngest scientist ever to win a Nobel Prize. Lee was barely 31 when he and onetime mentor C N Yang accepted the physics prize for their work in showing that the theta-meson and tau-meson — elementary particles that exhibit opposite parity in decay mode — are in fact the same particle (now called the K-meson), leading to the conclusion that the principle of parity conservation is violated at least in weak interactions. More recently T D Lee has contributed to the understanding of violations of time-reversal invariance in certain weak interactions.

Lee was born November 24, 1926 in Shanghai, China. At the age of 29 he became the youngest member of Columbia University's faculty.


Back To Main Page
---
CONTACT US | ADVERTISING INFO

© 1996-2013 Asian Media Group Inc
No part of the contents of this site may be reproduced without prior written permission.