GOLDSEA | ASIAMS.NET | ASIAN AMERICAN PERSONALITIES
THE 130 MOST INSPIRING ASIAN AMERICANS
OF ALL TIME
Daniel K. Inouye
PAGE 3 OF 3

an Inouye joined a small group of Nisei veterans to rebuild the Democratic party which for 50 years had been outmuscled by old-money Republicans. They succeeded by freeing the party from the tain of communist influence. Inouye was one of the first beneficiaries of the new Democratic machine. In 1954, while still practicing law, he was elected to the Territorial House and became Majority Leader. He served two terms and was elected to the Territorial Senate in 1958. On August 21, 1959 Hawaii became a state. In a move that foreshadowed his team-player style, Inouye passed up a run for the U.S. Senate to clear the way for a party elder. He ran for the House instead and became the state's first congressman.

"I've only called two press conferences in my political career," Inouye says. "The first to announce my candidacy for the Senate, the other one to announce that I was withdrawing to run for the House." A year later he was reelected to a full term.

That year, for the first time since the war, Inouye cried at, of all places, a tearjerker movie. He brought Margaret's hand up to his face so she could share the joyful breakthrough. The movie has been forgotten, but since then he has been able to cry on many occasions at "the plight of others".

In their mid-30s, in the midst of these political triumphs, the Inouyes decided the time had come to have children. It proved more difficult than imagined. There were two miscarriages before Daniel Ken Inouye, Jr., was born. For the last two months of her pregnancy Margaret was literally strapped down to the hospital bed. They felt lucky to have even one child.

"He's great looking, has no trouble getting dates," Inouye said proudly. "He's five-nine or ten. He's a good son, smart. He makes his own music. Sometimes I envy him — I always wanted to compose. Even if his music is a little weird, it's copyrighted." He beamed at the thought. Dan Junior majored in Far Eastern studies at George Washington while playing lead guitar in Marginal Man, a band formed with classmates. Wanting to work before going to graduate school, he worked as the booking manager at D.C.'s Club 930. Since he began working there Margaret went to the club once and Inouye, twice. Inouye raved about how great Dan Junior looked in a suit and a pony tail.

In 1962 Senator Oren Long stepped down and endorsed Inouye who won a landslide victory over Benjamin Dillingham to become the Senate's first member of Japanese ancestry.

One weekend in 1967 Inouye booked himself into a D.C. motel room without telling his staff and spoke non-stop into a tape recorder. The result was Journey to Washington which tells Inouye's life story and his rise to the halls of power. "Daniel K. Inouye, my cherished and admired friend, is one of America's great egalitarians," reads a forward by President Johnson. "With Dan supporting your position, you are afforded the luxury of being a little more certain that your side is the right one," reads the one by Vice-President Humphrey.

"I'm happy to say that I don't believe that my colleagues here in the Senate look upon me as a Japanese senator," Inouye has said. "And yet I am very proud of my exceptional background and culture from which I evolved." Inouye does recall standing on the Capitol steps, a newsly sworn-in senator, and being congratulated by an older senator who pondered, "Why can't the Blacks be more like you?" The Watergate hearings brought out the infamous "little Jap" reference to Inouye by John Erlichman's lawyer. The remark prompted a swell of letters and telegrams in support of Inouye. Perhaps 80% of the mail was supportive, but it was far from a unanimous endorsement. Inouye's close friend, Republic Senator Warren Rudman, took to the Senate floor to denounce the racial attacks upon his friend and colleague. "I was touched by Warren when he got so moved by the ethnic slurs," Inouye recalls. "But I've gone through this. It's part of life. If you can't take it, you have no business around here. Racial discrimination will be with us for a long, long time, and we should recognize the evil of it. I think most Americans do."
Back To Main Page
The photo on this military ID was taken November 9, 1944, four days after Daniel Inouye received a field commission as a second lieutenant.
"I was touched by Warren when he got so moved by the ethnic slurs," Inouye recalls. "But I've gone through this. It's part of life."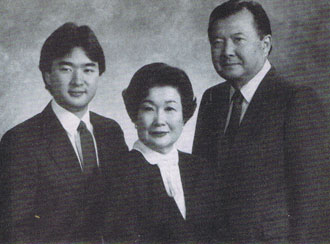 Daniel Inouye poses with wife Margaret and son "Kenny" for a family Christmas card.
---
CONTACT US | ADVERTISING INFO

© 1996-2013 Asian Media Group Inc
No part of the contents of this site may be reproduced without prior written permission.