Cain's ownership of his Asian side is surprising given that he has strongly condemned his biological father. There are dark parallels between George Tanaka and Scott Peterson. On the sunny side of Dean Cain's life, we can find happier parallels to the story of the Kryptonian orphan who was adopted by Ma and Pa Kent and grew up to be Superman. As a baby Dean Tanaka was adopted by a white stepfather and grew up to become, well, Superman.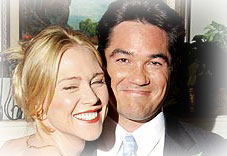 Dean Cain as Scott Peterson with Tracy Lynn as mistress Amber Frey in The Perfect Husband: The Laci Peterson Story (2004).



That image of the powerful, altruistic and pathologically modest superhero stuck only too well. Today, as he approaches 40, Cain is struggling to give his image the humanizing texture needed to win the roles that will give him a shot at elevating his stature above that of a TV hunk and action figure. Sadly, Cain's real life story is far more interesting than any that he has been able to portray.

Dean George Tanaka was born July 31, 1966 on a U.S. Air Force Base in Mt. Clemens, Michigan. He was the second son of Roger Tanaka, an Army serviceman, and Sharon Thomas. The couple divorced before Dean was born. He has never met Roger Tanaka who is half-Japanese American.

"He's not the kind of man I want to be," Dean Cain has said of his biological father. "He was an unfaithful husband and not much of a father."

Soon after Dean's birth Sharon moved him and older brother Roger to Los Angeles to pursue an acting career. In late 1969, when Dean was three and a half, she married Christopher Cain, a writer and actor supporting himself at a variety of jobs in and out of Hollywood while trying to build a career in the movie business. It wasn't until 1969 that Christopher Cain's name began appearing in the industry database — and that was only as an uncredited actor on an episode of the Room 222 TV series.

Christopher Cain adopted both Roger and Dean and became a devoted father.

"He has been the most wonderful father in the world," Dean would later say. It was after his adoptive father that Cain would eventually name his son Christopher.

In 1973 Sharon gave birth to daughter Krisinda. The three Cain children, as well as Sharon, were frequently cast in the low-budget but quality films that Christopher Cain was beginning to write and direct in the mid 70s. While still in grade school Dean was cast in lead roles in the kidflicks Elmer (1976) and The Buzzard (1979). In those days his stepfather was finally moving into the industry landscape as a screenwriter and director and Dean grew up in Malibu with a generation of Hollywood brats like Chris and Sean Penn, Charlie Sheen and Rob Lowe — the brat pack that would soon dominate tinseltown gossip columns.



"When I grew up in Malibu, I wrote in a fourth grade grade paper," recalls Dean Cain, "'My father is a police officer, a fireman' — and then in small type — '... and a director.' I didn't know that it was a cool, legitimate thing to do."

During his final year at Santa Monica High, which Malibu children attended in those days, Dean was cast in the lead of The Stone Boy (1984), a small film written and directed by his father that earned a few flatttering reviews but little box office visibility. At long last Christopher Cain was beginning to establish himself as a notable director.

For young Dean Cain all those childhood ties to Hollywood were merely the prosaic incidents of the family business, not the stuff of youthful dreams. He had done well in high school and distinguished himself as an athlete in football, volleyball, basketball and wrestling. "I was a fat little baby that grew into this skinny kid that was always good in sports." He dreamed of pursuing his potential in ivy-covered east coast colleges. PAGE 2
"For young Dean Cain all those childhood ties to Hollywood were merely the prosaic incidents of the family business, not the stuff of youthful dreams."
CONTACT US | ADVERTISING INFO

© 1996-2013 Asian Media Group Inc
No part of the contents of this site may be reproduced without prior written permission.